The green wall market is booming, according to exhibitors at a recent conference.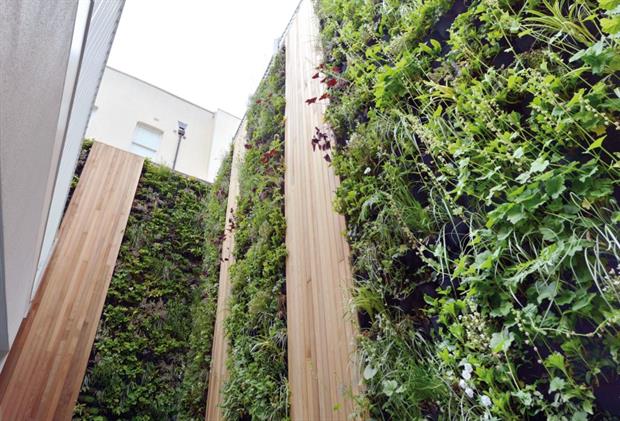 Green Infrastructure for Sustainable Urban Living, held at the University of Greenwich's department of architecture and landscape in London on 2 September, brought together suppliers, contractors, academics and speakers from local and national bodies.
The Green Vertical Garden Company, Mobilane, Sempergreen, Scotscape, Treebox and Watermatic gave short, instructive presentations on their various systems. Scotscape showcased its Perfect Pollinator system, which it developed in collaboration with the charity Bug Life and the company Wildlife World and following a period of installing others' systems as a landscape contractor, in a realignment of its business model.
Business development manager Niall McEvoy said the wall provides a "service station for bees", adding: "We make beelines across the walls. It will happen across the country and that will boost biodiversity." Orders in general have gone up by 10 per cent this year, he said, while finding and training enough landscape contractors is a challenge.
"It used to be high-end domestic interest but now it's commercial. They are interested in the pollinator wall because that is a message they want to convey to people. People want to be seen as green. We see the next movement as people buying the fabric themselves and building it themselves".
Watermatic showed its Aerogation Active Green Wall System, which it said draws in polluted air at the root and emits clean air through the plants. Marketing director Neal Landsberg added: "It's expanding – people are realising that it's crucial. Part of it is that developments are using as much green space as they can (to build on) and they use the green walls to create green space. It's partly driven by planting and partly by aesthetics.
"Designers are realising that if you're in an environment that is lacking in green, people don't do so well. Properties are more sellable and valuable when they have green walls. In addition, they are also healthier."
Clients can also be well-heeled private homeowners. Watermatic recently installed a 60sq m green screen to block a swimming pool area from the rest of the garden. Senior estimator Harim Hareven said enquiries were up for projects in 2017-18 but the sector still suffers from not making it off the drawing board. "Sometimes the landscape architect will specify automatic irrigation but then the contractor specifies manual watering. There's a lack of understanding as to how it can be done. It needs to happen but nobody is quite sure why or how."
Treebox is aimed squarely at the London market with its Air Purification Unit. Four have been installed so far in the capital with four more due to be installed in Holborn later this month. Founder Armando Raish said he aims to install 10,000 units across London over the next three years, adding that each unit could filter one million litres of air to 99 per cent purity every 24 hours.
To get around long-winded planning issues, he targets businesses with street frontage or space that can be rented, such as outside a tube station, and gets local business improvement districts involved. Vauxhall BID is one client on board.
University of Greenwich architecture and landscape department postgraduate co-ordinator Ben Kotzen also gave delegates a tour of its green roof and greenhouse teaching facility. The department is trialling different green wall systems as well as investigating the air scrubbing abilities of plants and orchids donated by Royal Botanic Gardens, Kew alongside a host of other horticulture and aquaculture research.
16 September 2016, by Sarah Cosgrove
For more information you can visit Hortweek.com
http://www.hortweek.com/confidence-growing-market-green-walls/landscape/article/1408894