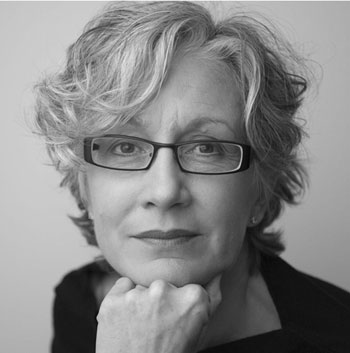 Image credit: Christopher Irion
In a recent book on your work from Princeton Architectural Press, Mary Myers writes, "Like Luis Barragán, Andrea Cochran is able to convey a forceful sense of volumetric space." Please describe your unique approach to space in your landscapes. What are your main influences?
I have two main areas of influence. One source of inspiration is the work of early modernist landscape architects: Dan Kiley, Garrett Eckbo, and James Rose. The gardens they designed in the 1930's were really a reinvention of space. They redefined the spatial constructs of modern architecture during a time that considered space over mass a defining quality.
Another big influence on my work would be Minimalist artists such as Robert Irwin, who reinterpret our perception of space. The edges become diaphanous, the spaces ephemeral.  Spaces such as these and the work of another Minimalist artist Fred Sandback are defined by suggestions of structure. Sandback used colored string to compose space in a gallery. That's very much they way I see my work as a landscape architect – a more diaphanous or permeable quality. Edges are done with plantings and spaces are defined by a minimum of structure.
Much of your work is in San Francisco Bay area. What are the challenges involved in working with the microclimates in the region? Do you consider yourself a regional landscape architect foremost?
I moved to the Bay Area in 1981. I grew up on the East Coast, and so it took me a number of years to really understand the climate here, which is very complex. A reference book for landscape architects in the west is the Sunset Western Garden Book. The climate zones in this book are more specific than the USDA zones. In the Sunset zones, there are probably five planting zones within the region near the Bay Area.
If you are in San Francisco, you have a climate that is very marine influenced, and very cool in the summer and never really warm in the winter, so you have some opportunities/challenges in terms of plant material. In an hour's drive from San Francisco, the temperature can vary by 30 degrees on a given day.
The regions here are very small and specific and it takes a long time working in this area to understand these microclimates. I think I do my best work in the Bay Area, because I think we all do the work in the region that we're the most comfortable with, where we understand the nuances.
Your work for the Portland Art Museum features moveable plinths and vertical steel panels, enabling a multitude of internal configurations. Do you think urban design needs to be modular, adaptive and changeable to cater to different users?
I absolutely believe that. Urban planning needs to be more adaptable and less prescriptive physically, encouraging adaptation over time. That's a much more innovative approach when you're working on a planning level.
At a design level, it's kind of hard to allow things to move and change, especially in a landscape. So, I think you're a little more restricted. For the Portland Art Museum, we had a client that needed to be able to move things, and they have curators, and they have different exhibits, so things needed to move and change, and adapt to a changing collection. For that particular use, it worked, but I think adaptability works best at a planning level and applies to urban design.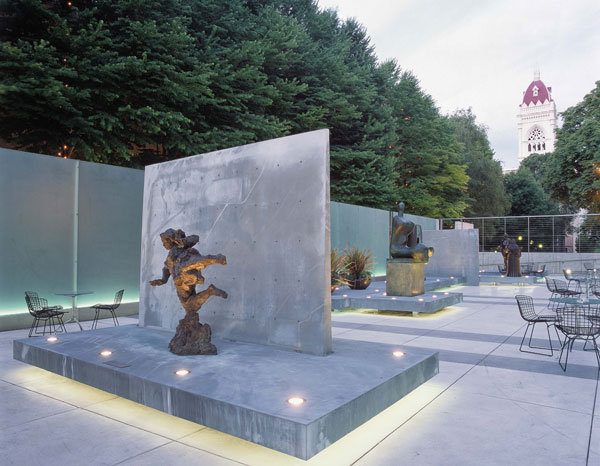 Image credit: Yalcin Erhan
One of your ASLA award-winning projects, the Curran House, an affordable housing community in San Francisco, presents "the landscape as sanctuary in a threatening world." You purposefully designed a quiet oasis on the roof, that intensifies the sense of being in nature, while also enabling social interaction through gardening plots. Researchers are increasingly pointing to the value of gardening in reducing trauma. What do you see as the primary health and social values of these environments? How do they need to be designed to work best?
One day, when we went up to the roof garden at the Curran House, I met a resident who was gardening while doing the family laundry. The laundry room is located right off the roof garden. This helps create great social connections with the architecture and landscape. The roof becomes an extension of people's daily lives. On one social level, the roof has inter-connectedness. The garden becomes a social place where people can hang out. They actually might be working next to their neighbor as they're working on their garden plot. It's a community building kind of activity. It's become so popular that they have to do a lottery because more people want to use the little garden plots than are available.
The point I started with was that I saw this man up there, he had the most beautiful broccoli growing in his two by three foot bed, and I don't know what else was in there, but this broccoli was unbelievably beautiful. He said I come up here and this is my therapy. I can get my hands in the dirt. I was almost in tears. I thought it was the most meaningful thing I'd ever done to just give this guy a chance to just be outside, be in the sun and work with his hands in the dirt and grow something in the five foot square plot. I think it's really worked well. When he's up there working, teenagers come up and hang out. Adults are up there working on their gardens so the teenagers are being monitored. It's not a leftover space, isolated, where things can happen. It becomes this environment that's more of a community, and people kind of watch out for one another.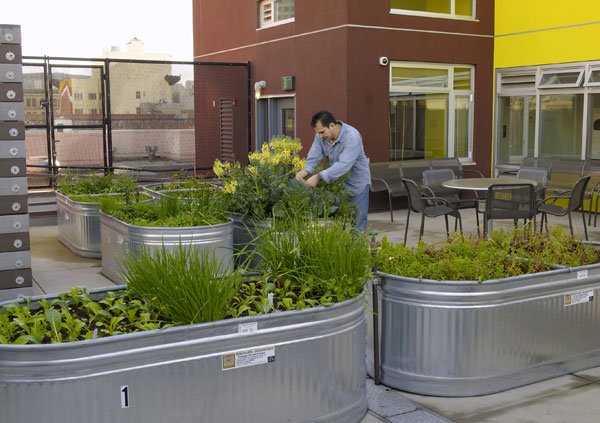 Image credit: Marion Brenner
Recently you've done a lot of work for the scientific communities with the UCSF Cardiovascular Research Institute, and Lawrence Berkeley Labs Helios Energy Research Facility. How do your site designs facilitate the interdisciplinary interaction critical to science?
For the Cardiovascular Research Institute, they wanted the landscape of this courtyard to be different from other places on campus. They wanted it to have a different character and quality than the rest of the landscape, which was more minimal. They wanted something very interactive that encouraged people to come and meet.
Research work can be isolating so the idea was to create spaces that encourage people to get together in small groups or larger groups and create opportunities for them to run across one another walking from place to place — either coming to work, or going from building to building. Encouraging community and encouraging interaction was an important part of the design. This applies to a lot of different kinds of work. However, for research, in particular, it's really important.
Usually, I don't work with metaphor, but we wanted to do something that was meaningful for the institute and so the actual design was inspired by an electrocardiogram. The spikes of an electrocardiogram were interpreted onto the ground plane to create a landscape that ebbs and flows. Also the scientists were interested in creating a landscape that harkened back to what the site had been before it was filled in. The site was formerly part of the bay, so the plantings we proposed are grasses and plant material reminiscent of a salt marsh. There's a movement to the grasses in the wind, which might be called romantic, but it's also a reference to the past.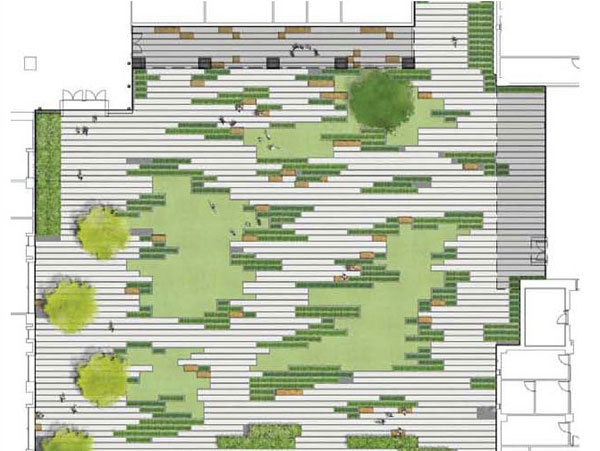 Image credit: Andrea Cochran Landscape Architecture
For the Lawrence Berkeley Helios Energy Research Facility, we are using patterns on scrim walls that illustrate the molecules, the bio-fuels, the lab is developing through its research. They also wanted some of the plant materials that they're using in their research to be part of the garden, so that's part of the design as well.
A few years ago you gave a speech at AIA on "Fostering Design Innovation Through Diversity." What were your main arguments?
My main point was that we try and keep a diverse set of projects in our office. About half our work is high-end residential work, and the other half is institutional and commercial and affordable housing projects. What we learn on the residential side allows us to develop our craft of building things, because all our projects are built. We're working with clients that are willing to take risks. We're able to try things out in an area that's safer and the risks are understood by everyone. We're then able to apply what we've learned to public projects that can't afford to take risks. The scale is different. If a plant were to fail as a mass planting, say, a plant you hadn't tried before, that would be a big problem.
For the Portland Art Museum, those ten-foot sand-blasted glass walls were only approved because we had done eight-foot sand-blasted glass walls for a private residence. Understanding materials and learning how to build with them on a smaller scale, where there's less liability, allows you to take those principles and apply them to more public landscapes and be more innovative.
Lastly, another ASLA award winning project, the Stone Edge Farm, features a serene uncluttered landscape and salvaged rocks. Many of your projects include salvaged materials. Do you view these as central to sustainability? How can landscape architects best use design to express values related to sustainability?
For the Stone Edge Farm project, we reused the rocks on the site to construct a stone pyramid. The stones leftover from the excavation would have had to have been hauled away.  On other projects we've salvaged locally harvested trees that have either blown down or had to be removed. In the Nueva School Project we reused some diseased Monterey Cypress trees that were in a parking lot of the proposed building site. We milled the wood to make sun screens to shade the windows and for decking. Those are important things to do, but not always possible. To the extent possible, we use more local materials. The environmental cost of transport is huge on projects.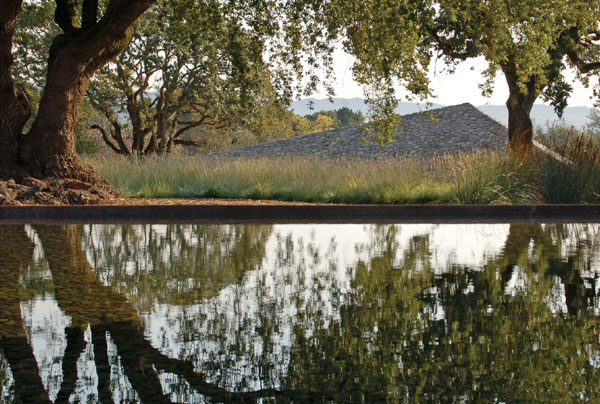 Image credit: Emily Rylander
How we deal with the whole rainwater cycle and drainage is probably the most important thing we can develop in terms of sustainability. For instance, on our project for the Cardiovascular Research Institute in San Francisco, the storm water and the sewage systems are one system. If we get an intense rainstorm, there is sewage overflow into the bay. Delaying the water from the peak storm event by several hours or a day can actually make a huge difference in the amount of pollution in terms of sewage overflow. We have created a large gravel reservoir under the plaza to hold the rain water and defer its outfall. It's a LEED Gold project, and it also has a green roof, which will help delay the storm water. Water is probably the most important thing we need to be thinking about –it's where we can make the greatest long-term impact.
---
Andrea Cochran, FASLA, is principal of Andrea Cochran Landscape Architecture. See more of her work in a recent book by Princeton Architectural Press.
Source: www.asla.org