MJ GALBRAITH | TUESDAY, FEBRUARY 23, 2016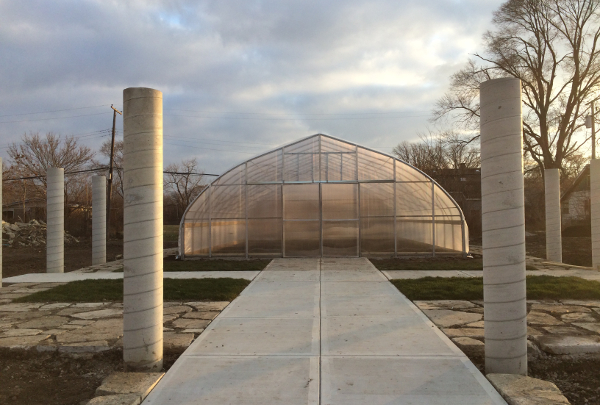 Detroit's Penrose neighborhood is set to see another development in the years-long Penrose Market Garden project. With the help of a 2015 Kresge Innovation Projects: Detroit grant, non-profit landscape architect group GrowTown and the Arab American and Chaldean Council will finish the construction and subsequent planting of a market garden and the establishment of nutrition programming this spring.
The Penrose Market Garden project is multi-layered, one that will operate as a functioning urban farm while also serving to provide project leaders key information about viable urban farming practices in the city of Detroit. Beth Hagenbuch, co-founder of GrowTown, says that for any sort of urban farm or garden project to be successful, it must be designed to be site-specific. Cookie cutter agriculture just wouldn't work.
"The idea of the site-specific concept comes from our landscape architecture backgrounds," says Hagenbuch. "Landscapes might seem almost invisible to some. Every time we step outside we can forget how much the environment affects us. But landscapes affect our bodies, our hearts, our blood pressure, our mental health, and much more."
Hagenbuch, who designed the award-winning Lafayette Greens garden in downtown Detroit, and partner Ken Weikal explain how the Penrose neighborhood is characterized by a sea of 30-foot-by-100-foot lots, providing a different set of opportunities and challenges than the garden downtown. There was a challenge, for instance, in obtaining adjacent lots from different owners. Spread different parts of the farm too far apart and it just might not work.
Once the market is up and running, Weikal says that the team will be analyzing data to determine the metrics for what it takes for an urban farmer to be self-sufficient. They are looking to determine how much space and how many crops are necessary for an urban farm to be economically viable once the grant money goes away.
In addition to the market garden and nutritional programming this spring, the team plan on using apartments above the art house and the farm house to house on-site growers. A community space will host art classes, barbecues, community meetings, and other events.
Got a development news story to share? Email MJ Galbraith here or send him a tweet @mikegalbraith.
http://www.modeldmedia.com/devnews/PenroseMarketGarden.aspx